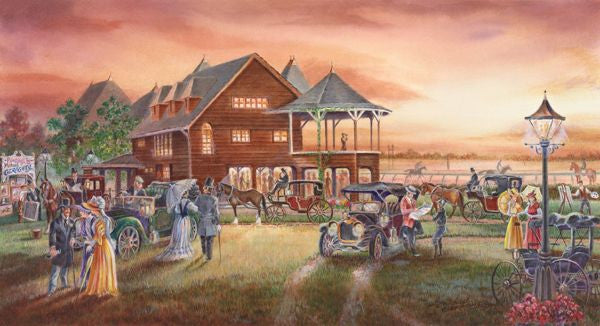 Vintage Saratoga
Each print comes with the following caption...
The First Saratoga Race Course 
The birthplace of American thoroughbred racing.  Abraham Lincoln was president when horse racing began in Saratoga Springs, New York in 1863.   The first meeting was held north of Union Avenue, at Horse Haven, and moved to its current location a year later.  
In 1892 an ornate grandstand and clubhouse was built which was 418 feet long and could seat five thousand. The highlight of the architecture was its beautiful steepled slate rooftop which, over a century later, still stands as the track's signature feature. 
Turn of the century patrons arriving for morning workouts or a day at the races parked their motorcars or horse-drawn carriages beside the clubhouse. Today, the Saratoga Race Course clubhouse reigns as not only the oldest bleacher complex in all of professional sports - pre dating Fenway Park by 20 years - but historically stands as America's first ever professional sports venue.
THE FIRST SARATOGA
An Artist Signed & Numbered Limited Edition of 1,000 Fine Art Prints
Overall display size - including the descriptive caption above - is 14" x 26"
Price $85
This print is Sold UnFramed
SHIPPING IS FREE
Personal Checks and All Major Credit Cards Accepted 
Questions?  call or text Mike Geraghty at 
301. 602. 4385
or Email:  mgArts31@gmail. com